Harry's Horrible Shool Day / Harryn hirveä koulupäivä
Tehty vuonna 2000. En vastaa oikeakielisyydestä, sillä olin valmistumishetkellä vasta 14-vuotias.
This was done the year 2000. I don't take responsibility for grammatical correctness for I was only 14 at moment of completion.
Tämä on vaihteeksi englanninkielinen, tekstitys suomeksi alempana.
English text also rewritten down there in case the texts inside the comic seem too unclear.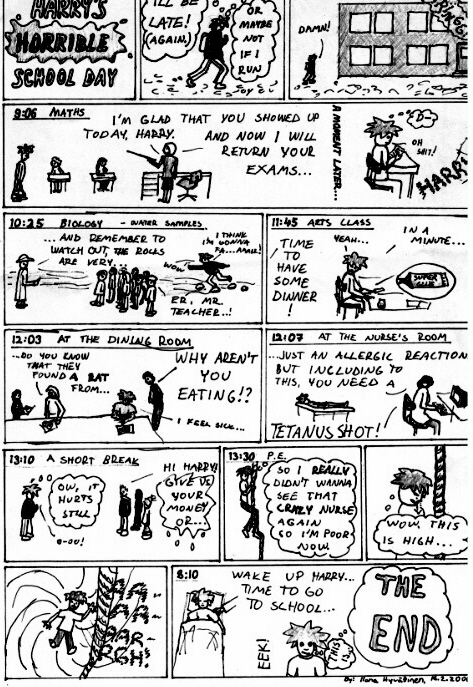 (Luova) suomennos, ajatuskuplat on aaltosuluissa

Harry: {Taidan myöhästyä! (Taas.)}
Harry:{Tai ehken sittenkään jos juoksen}
Hitto!
9:06 Matikkaa
Ope: Hyvä että vaivauduit paikalle, Harry. Ja nyt palautan kokeenne...
((Hetken kuluttua...))
Harry: {Aika huono tulos}
No Voi Paska!
Ope: HARRY!
10:25 Biologiaa - Vesinäytteet
Ope: Ja muistakaa olla varovaisia, kivet ovat hyvin...
Harry: Mä taida ka..aatua!
Nimetön poika: Hei, opettaja..!
11:45 Kuviksenluokassa
Ääni: RUOKA-AIKA!
Harry: Joo...
Ihan kohta...
((Teksti tuubissa, (josta lähtee lätäkkö, jossa Harryn paita näyttää olevan kiinni...): SUPERLIIMA))
12:03 Ruokalassa
((Huomatkaa, Harrylla on nyt t-paita pitkähihaisen sijaan.))
Nimetön tyttö kaverilleen: Tiesitkö että yks rotta oli löydetty...
Valvoja: MIKSI ET SYÖ!?
Harry: *kuiskaa* Mulla on huono olo...
((Huomatkaa näppylät Harryn käsivarsissa.))
12:07 Terkkarin huoneessa
Terkkari: ... pelkkä allerginen reaktio... mutta tämän mukaan en ole vielä antanut sinulle JÄYKKÄKOURISTUSROKOTUSTA!
13:10 Lyhyt tauko
Harry: {Auts, sattuu vieläkin}
Voi ei!
Kovis: Moi Harry! *Uhkaavasti:* Rahat tänne tai...
13:30 Liikkaa
Harry: {En siis todellakaan tahtonut tavata sitä hullua terkkaria enää uudestaan, joten olen köyhä nyt.}
Harry: {Ohhoh, oon tosi korkeella...}
*Katsoo alas.*
8:10
((Yhtäkkiä onkin aamu ja hän herää omassa vuoteessaan.)) Vanhempi: Herää jo Harry... Aika mennä kouluun...
Harry: {Tämä on...}
LOPPU

Harry: {I'll be late! (Again.)}
{Or maybe not if I run}
Harry: Damn!
9:06 Maths
Teacher: I'm glad that you showed up today, Harry. And now I will return your exams...
A moment later...
Harry: {D-}
Oh shit!
Teacher: HARRY!
10:25 Biology - Water samples
Teacher: ...And remember to watch out, the rocks are very...
Harry: I think I'm gonna fa...aaall!
Anonymous boy: Er, Mr. Teacher..!
11:45 Arts class
A voice: TIME TO HAVE SOME DINNER! ((Meant to write lunch, sorry.))
Harry: Yeah... In a minute...
((The text in the tube (from which comes out a puddle in which Harry's shirt appears to be stuck on...): SUPER GLUE))
12:03 At the dining room
((Notice that Harry is now wearing a t-shirt in stead of that long-sleeved shirt he was wearing in the morning.))
Anonymous girl to her pal: Did you know that they found a rat from...
Monitor: WHY AREN'T YOU EATING!?
Harry: I feel sick...
((Notice the spots on his forearms.))
12:07 At the nurse's room
Nurse: ...Just an allergic reaction... But including to this, you need a TETANUS SHOT!
((Not that Harry would need it at the moment, but why waste an oppoturnity to give it? He'd have to come back for it later, anyway.))
13:10 A short break
Harry: {It hurts still}
Uh-oh!
Tough guy: Hi Harry! Give us your money or...
13:30 P.E.
Harry: {So I really didn't wanna see that crazy nurse again so I'm poor now.}
Harry: {Wow. This is high...}
*Looks down.* 8:10
A parent: Wake up Harry... Time to go to school...
Harry: {This is...}
THE END